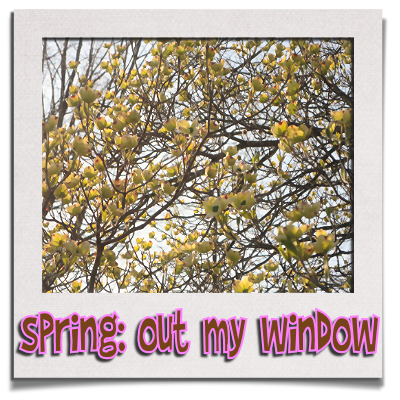 This is the view from the tree outside my window. It makes me smile so I thought I would share. :)
Today I woke up, determined to be crafty so I pulled out the collection of ribbons I had bought, some string, and a few other odds and ends and got down to it. A few steps, fourty minutes, and a happy dance later... I had hair bows!!!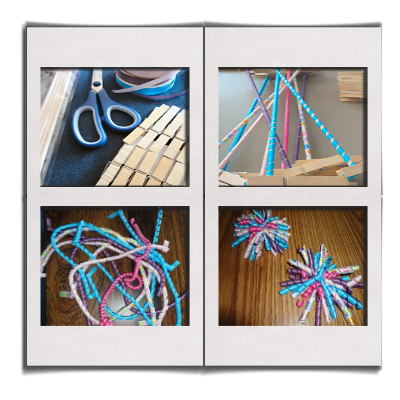 My girls are at least half as excited as I am - and that's only because, for a first try, I'm mighty damn proud. :D *does another happy dance for good measure*
Once I had my craftiness out, I headed for the kitchen to bake up the cookies from the dough I made yesterday. They came out GIANT, but tasted sooo yummy! I let the girls try a bit of each kind (chocolate chip & new old fashioned snickerdoodle) and kiddo #2 took a bite of the snickerdoodle proclaiming, "Mmmm! These are even better than the chocolate chip!"
Which, all things considered, is awesome. Those things considered would be that I half created the recipe. *Woot!*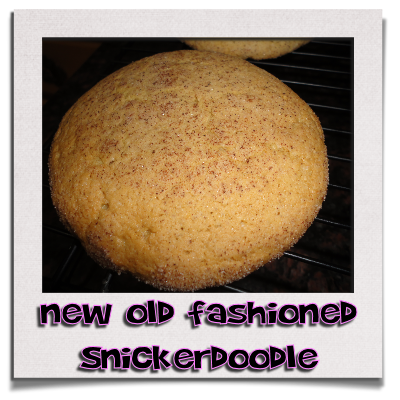 Cookies baked, cooled, and wrapped, I started on dinner! This time I completely created a recipe! I made dessert first (start with the yummiest) and had a good time with it. :D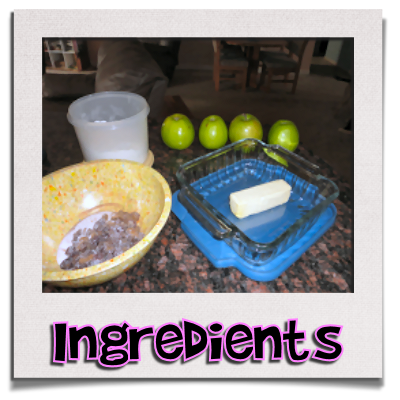 To make Cherry Apple Cobbler you...
1. Melt one stick of butter in the bottom of a 9x9 inch pan
2. Empty a bag of dried cherries into a bowl
--- Sprinkle cherries with 1/4 C sugar, 1 tsp cinnamon, and 1/4 tsp nutmeg
3. Core and peel 4 Granny Smith apples
--- I used a veg. peeler, it was a ton of fun once I got the hang of it & a LOT faster than using a knife!
4. Chop apples and toss them with the cherries & sugar/spice mixture
5. In a seperate bowl mix 2/3 C milk, 2/3 C all purpose flour, & 2/3 C sugar - pour over melted butter in 9x9 pan
6. After tossing well, pour fruit into 9x9 pan
7. Bake @ 350* for 45 minutes to one hour
And it is GOOD! The cherries give it a tart bite, the apples a sweet snap, the cinnamon and nutmeg just enough of a taste without being overbearing... GAH! I'm going to eat more once I hit the Post button. Bad me, but gooood cobbler! :D
The rest of dinner held two other firsts as well, I just didn't have the presense of mind to photograph them. I made homemade biscuits from scratch and I made fried chicken! :D I cannot describe the happy dances I did once everything came out looking like food and tasting good!
Throw in some corn and green beans and you have our complete meal. Southern food at its best! I half want to eat more of everything from dinner tonight... I'm not sure if I can talk myself out of it. But I'll start with the cobbler - maybe I'll stop there? *snicker*
The weekend will most likely be time off for me. I usually can't get anything accomplished when everyone is home and in the way. Then again, maybe inspiration will jump in and bite me on the butt again. The weather is supposed to take a turn for the worst so I'm forseeing movies and snuggling and all around being lazy. Maybe those s'mores bars will get their chance. Maybe not.
Only time can tell cause I never know what I'm doing from one moment to the next!