With my superheros at my side, I moved into battle,
ready to tackle whatever evils awaited...
Together we went after the Dust Bunnies, Evil Microwave, and Unspeakable Terrors that lurked in the depths of the nooks and crannies. Together, we were triumphant!!!
Which made way for some cooking...
*bubble bubble toil and no trouble*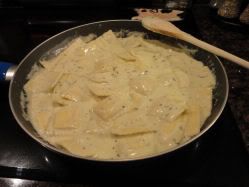 (4 cheese ravioli with homemade alfredo)
Which made full bellies for the adults while the kiddos chowed down on Gramma's famous sweet potato casserole. Still, task one successfully completed and that leaves room for another task tomorrow.
What does tomorrow bring exactly?
With any luck, baths for the kids, a fun, quick craft with them, and then...
an attack on the

Laundry Room of Doom

!!!