Continuing with my metaphorical wagon here.... I'm back in the driver's seat, living large and in charge! *Cracks a whip*
Today was BALLS! (Yes, balls. Apparently, they're more fun than nuts.)
We got up with the sun, our feet hitting the floor and not stopping till, well, now. The girls got breakfast while I rushed about gathering the recycling and dumping it in the car. Afterwards was putting on our "good morning" clothes where the girls got to rock their second Spring Outfit of the season. They're very excited about wearing clothes where they can see their legs.
I've got some hams on my hands here. *Proud grin*
Next we shuttled to school where the girls got to spend threes hours running about playing, learning, and laughing while I busted tail to Make Things Happen. Children are easily one of the, if not THE, most precious creations ever. Especially if they're your own. Yes, yes, mark it down, I've made a sappy comment about my miniature monsters.
But really, they're these tiny, perfectly non-perfect beings that I get to watch learn and grow. They amazing at the best of times and make me want to put my head through a wall at the worst of times, but if you're a mom like me you know the bottom line stands at while they're cute and amazing and wonderful.... SO much more gets done when they're not tagging along!!!! :D
So I hightailed it to Wal Mart and rushed in with a walk that, I'm sure, made it look as though I had lost the treadmill I was working out on (you know the walk: long steps, pumping arms, eyes on the target... I totally busted it out in the big ol' WM). Within minutes I had a small armful of spring/summer shorts for the midgets, I had a case of Dr. Pepper in a death hold, and was wielding a large bottle of Bar B Que sauce as a warning to anyone foolish enough to get in my way.
Yes, bad me, buying the BBQ sauce, but I knew I was going to be pressed for time and if shortcuts weren't meant to be taken every now and then, they wouldn't exist at all.
So, BBQ weapon tucked away and paid for, I was out the door lickity split and across the road to the Good Will.
Good Will is under rated. Which is TOTALLY okay with me. It leaves more of the good stuff for my perusing eyes. But really, when Lady Luck is smiling your way, the Good Will can bless you with all kinds of amazing treats for super, duper cheap.
Today I lucked out with several goodies for the house as well as the few spring/summer shirts I was hoping to get for the girls.... at $1.25 a piece. Take that Wal Mart! *sucker punch* I was thrilled about the shirts more than I was about the items to decorate with, which is a statement within itself. I stopped caring about fashion about three months into my pregnancy ohhh.... five years ago.
But when I walked out of that store (using my Save the Planet Paris shopping bag, yay!me) with Hannah Montana and Hello Kitty in my ownership for the mere price of a 16oz soda... I suddenly cared about fashion again. And I walked with my head held high.
Technically, I made a rather mad looking dash for my car (startling an incoming customer no less), but my head was high nonetheless.
From there I was off to the dollar store where I vowed to spend no more than five dollars. Practically unheard of, but I managed. A handful of brightly colored, over sized flowers and a bag of rocks later (I know... I paid for a bag of rocks... I'm a sucker...) I was back on my way!
This time it was to the recycling port where I did my bit to save Mother Earth before jetting to Food Lion where I grabbed up the last essentials for dinner. Another record for least amount of time spent in a store. Today was all about the fast lane. (Life in the fast lane...doot doot doot doot...)
Once home I did a bit of prep work for dinner and finally Tackled The Mantle!!!
I totally won, too. See?
Before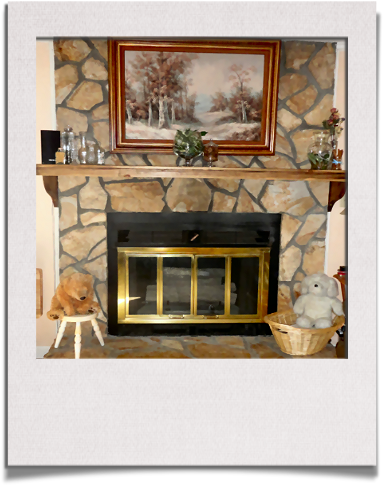 After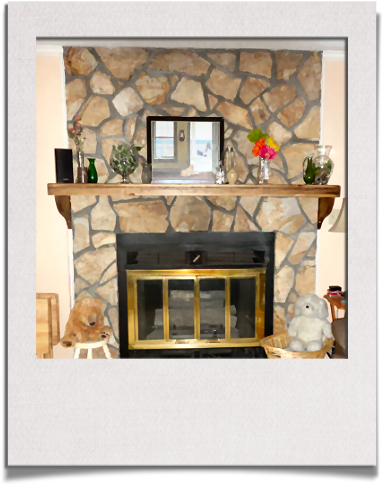 I LOVE it. A few more pictures... just because I'm THAT excited. (It doesn't take much!)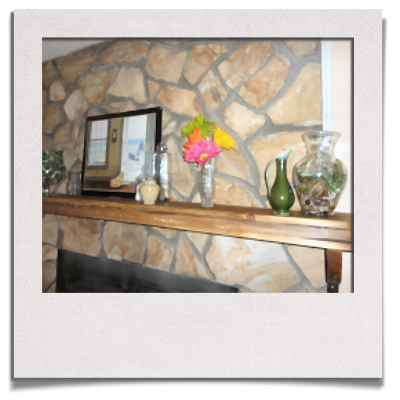 I was almost late picking up the kiddos, but I had gotten them two new movies at Good Will (for a buck each!) as well, and the line of parents for pick up was tremendous so they weren't even aware of my delay. Double yay!
With them fed I began dinner prep in earnest, pausing to do the dishes and a quick load of towels. My Nanny and Poppy stopped by for a few minutes as the day began to wind down and we all enjoyed the nice weather from the back porch as the girls ran around the yard and made use of their swing set.
When they left the rest of us sat down to supper. Grilled BBQ chicken with grilled, fresh pineapple rings, macaroni salad, cheesy baked ranch potatoes, garden salad and jumbo chocolate chips. Yum! It was the first time I actually got to eat today (oops) so I was VERY excited to sit down and enjoy... and yum! I mean, yay! Hahahah... I always surprise myself when something I create comes out well. Makes life more pleasurable, though, so I can't complain.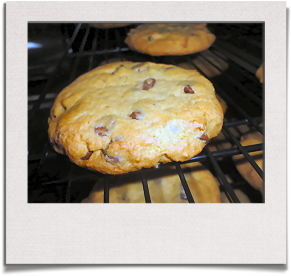 Now I'm sitting down, sharing my haphazard day with you lot (hi! *waves*) while the washing machine runs another load of clothes and the dishwasher sits filled, patiently waiting its turn to run.
Mentally, I'm mapping out my tomorrow, trying to figure out what all I have to do. I do believe that I'll attempt to dye my hair... it's getting scary up there... and perhaps cook something fun for dinner. My mom won't be around so I'll get to actually use onions and peppers - her allergies don't allow me to do that when she's eating with us, but she has a dinner meeting so my dad and I can chow down.
I'm thinking some version of jambalaya?? Tomorrow will tell.
Otherwise, I'm thinking of doing nothing much... Perhaps, perhaps, I'll try my hand at those paper flowers.... or not. We'll see.