I've not yet fallen off! I've only sidetracked myself with other projects and bits of busy-ness.
Friday had me creating giant chocolate chip cookies to sell at the local Drive In. Then, in a rush of oh-my-gahd-what-if-those-aren't-enough I made a double batch of peanut butter & peanut butter and chocolate chip cookies. Which came out surprisingly well considering I made most of the recipe up on the fly. That's right, I'm rocking some mad skills.
The original recipe was here "Quick Peanut Butter Cookies"... and so I got to work... and then I started reading the less than raving reviews... Oh no!
Luckily, a handful of brown sugar, a dash of cinnamon, and a drizzel of oil got me on the right track. The cookies were cute to look at (my camera died! eekads and drat!) and fell apart in your mouth like old fashioned soft maple candy. In a word:

success

!!!
Saturday took my kids and I to my aunt's house where we cleaned till dropped, rearranged till we went kaput, and decorated until the house had had itself a full make over. Whew!
Then I came home and made blue velvet cupcakes for a friend who was celebrating his birthday. I couldn't get out to partake in the festivities, but I wanted to do a little something for him. When I asked him what kind of cupcake he liked he said "red velvet" so... I shuffled over to my cabinets and searched out my many and various food dyes.
No red. None. Not nary at all.
Solution? Blue. Lots and lots of blue. Which, in the end, tripped the birthday boy's trigger and inspired story telling about a man, a movie, and a television, each having the ability to Blow. Your. Mind.
So... I did good. *Pats self on back*
I headed back out to my aunt's today to finish up the cleaning detail and to take pictures - and damn nations if I didn't forget those ever important "before" photos - as well as to enjoy the now-relaxed atmosphere.
She's still housing two gigantic beasts, sweet and gentle though they may be, until they find themselves a new home (thumbing through the yellow pages with paws is a hard task!) so there are blankets over the white furniture and ginormous beds on the floor. However, the difference in the way the house looked then and looks now... It's a new place altogether!
From the kitchen into the Breakfast Nook
(yay, water bowls! *snicker)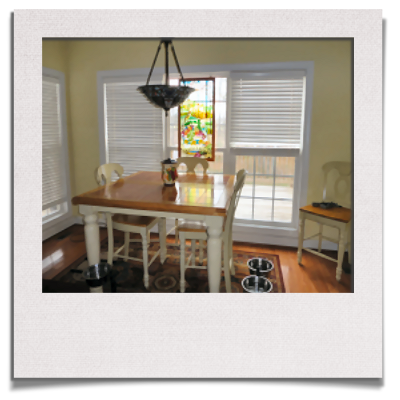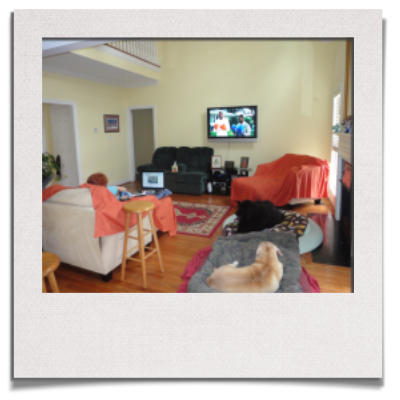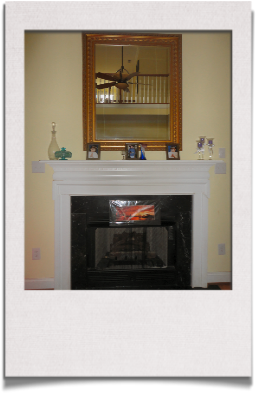 Living room coming in from the front door
(that Carlina lump is my aunt...crazy... :D)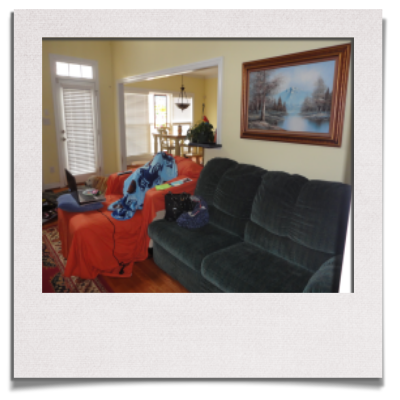 Entry from the front door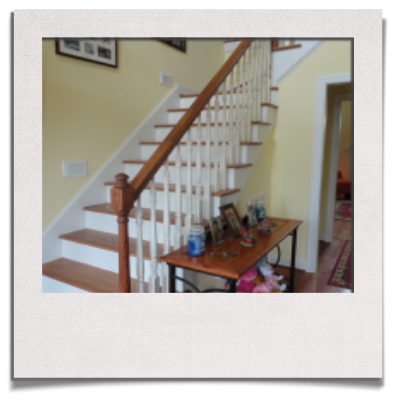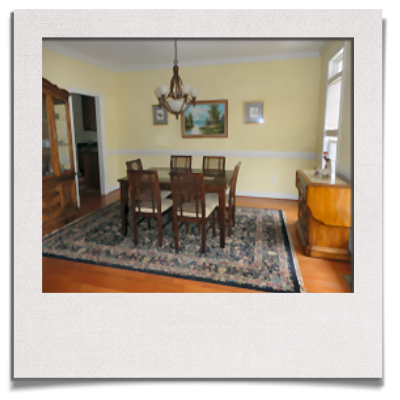 Dinning room from kitchen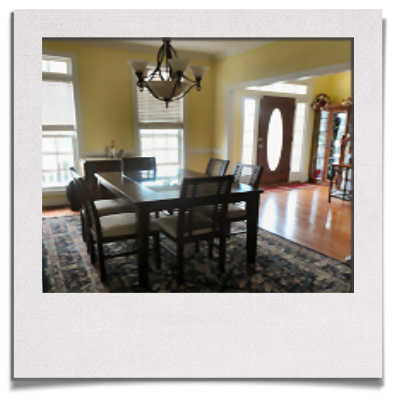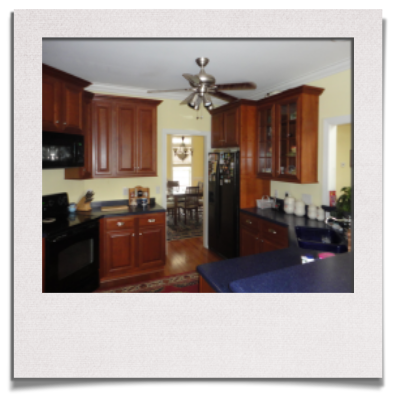 & back to the breakfast nook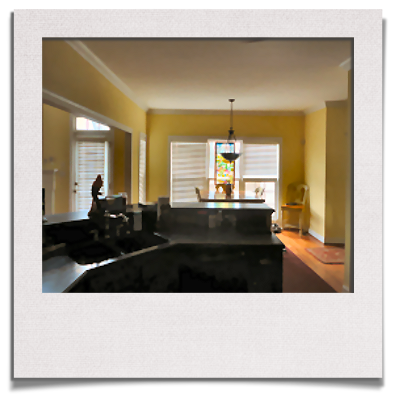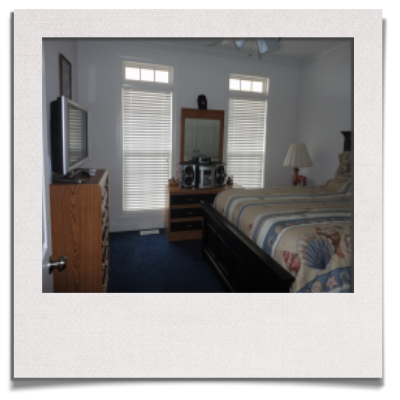 It was a lot of fun to really get down and dirty and my kids had SO much fun helping clean! We handed them paper towels and Windex, pointed them towards the glass and boy did they go to town! Made the OCD beast in me sit up and grin proudly.
Tomorrow is a preschool day so I'm hoping to check out the local Salvation Army and Good Will. I'm still struggling with my mantle , which is truly driving me mad seeing as I stare at it for about 70% of my day. It looks okay now, but I'm not satisified and until I'm satisified, I refuse to mark it off the list.
So tomorrow! Tomorrow, I say!
I shall find the missing pieces, hopefully rip down the gigantic, ancient photo down that's been hanging there for 18 freaking years, and make the mantle look like a piece of art that's welcoming Spring rather than a stack of wooden slabs, staring and mocking me with its missed oppertunities for greatness. Damn you, mantle. Damn you to hell.
Additionally, I will do the recycling and make something yummy for dinner. At least something edible. That's the goal, anyway... now for ideas on what I can create without another trip to WalMart. *pulls out the Think Tank*