Time to do some body re-shaping! :D


If you didn't see that one coming, I'm not sure there's help for you out there ;)
However, today it seems, was a day for silliness! Just check out our dinner::
The idea was that you couldn't tell one course from the next - they were all supposed to look like cupcakes. It didn't come out quite like I had imaged, but it was mighty tasty and we enjoyed it as a family; I called the grandparents in once more and we all acted like fools together! :)
The rest of the day was pretty much spent making these:
Chocolate Chip (standard)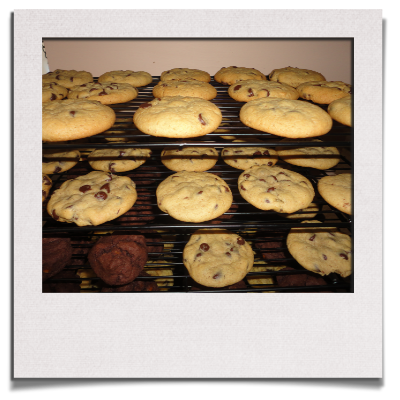 It was a good day, a busy day, and a day for inventing! The Banana Sundae was totally my creation! No outside inspiration, no "based off of this recipe"... just me! SUPER excited over such a small thing, but so is life. :)
It's pretty simple, all things considered... yellow cake mix, 1/2 C chopped candied cherries, 1/2 C chocolate chips, 1/2 C walnuts, 2 tsp banana flavoring (I'll try mushed up bananas next time!), 2 eggs, 1/2 C veg oil - mix, roll into 1 inch balls, and bake @ 375* for 10 minutes. YAUM!
There are a lot of possible tweaks with this recipe, too. Like dipping it in chocolate, topping it with caramel, adding that mushed banana I mentioned... mmmmm. I can't wait to play around with it! :D
To bring myself up to date, this is the list so far:
1. Cooking
1. Brown Sugar Meatloaf
2. Maple Porkchops OR Maple Salmon
3. Drunken Coffee Jello Squares - You can argue that these are "bake", but i'll argue back ;)
4. Homemade Cinnamon Bread
2. Baking
1. Eclairs! Loooove them! Now I want to MAKE them!
2. Cherry Pound Cake. Yum.
3. Playdough Cookies. Fun for the kids, too!
4. S'mores Cookie Bars My sister's obsession is slowly becoming my own.
3. Crafts
2. Hair Bows
3. Paper Flowers
4. Toliet Paper Roll Wall Art
4. Cleaning
1. Organizing the Laundry Room Cabinets
2. Decorating the Mantel
3. Reorganizing the Baking Supplies
4. Cleaning the Kitchen Counters (the dreaded moving of the microwave!)
Not too much left to do before I need a new list & tomorrow already has plans for landscaping with my dad. We're headed out of town to get a few trees, some lumber, and perhaps a plant or two? I'm pretty excited about this project, though it will take a while to complete. I'm just hoping I get to be hands on from beginning to end! :D
In the vein of keeping some of these posts short and sweet I'll end things here - no trick. ;)
Happy April Fools!!! ((& Happy Birthday to Fred & George!!))