This is what I call the Coconut StrawCherry
with Strawberry Buttercream Icing.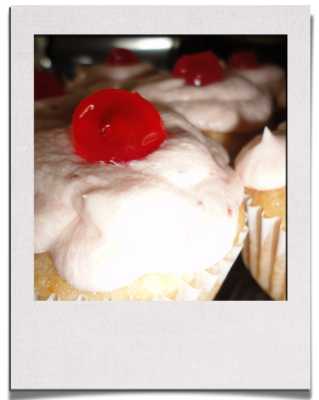 Sandra Lee, Watch Out!! I'm coming for your job!!!
My mom is a teacher and they've having to do "bench mark testing" this week. Let me tell you, you do not appreciate how much teachers dislike school until you are one - or at least the daughter of one. They don't like it any more than the students do.
That's not to say they don't like their jobs or they don't like passing their knowledge along, it's to say all those ridiculous hoops the government is sliding into place within the school system get tiring after a while. You can only jump so many times before you landing is less than ideal.
I wanted to give the teachers a bit of a "pick me up" between their massive classes of loud, rambunctious, know-it-all tween and teens (seriously?! who thought thirty 17 year olds in ONE ROOM for an hour and a half was a good idea?!). Thus, the Coconut StrawCherry was born.
It all started with a white cake mix. I used Pillsbury cake mix because it's done me good so many times. Moist, cheap, and totally drool worthy all on its own.
Next I added about 1/3 C of strawberry jello. Following that was a pouch of Capri Sun Cherry Flavored juice (and a touch of tap water to round that out to a full cup). I added somewhere between 1/4 and 1/3 C of oil, three egg whites, and a half a cup of sweetened, shredded coconut.
Mix, mix, mix, dip and drop out equal (or nearly equal) amounts, into the oven @ 350* for 20 minutes and the smell was smack you in the face GOOOOOOOD!!!
I had to taste one. So I did. It was as yummy as it smelled. I was proud.
Next, I needed icing. Yuuuum....
Buttercream is an awesome standby. It holds up well to time, it doesn't have to be refridgerated, and it's versitile.
Start with the regular recipe:
1/2 C butter
1/2 C shortening
1 tsp STRAWBERRY extract or flavoring
2 Tbsp milk, water, or light Kyro syrup
Mix it up in the order it's listed. The more of the last ingredient you add, the thinner your icing will be so add carefully until you have the consistancy you want.
Today I let mine run a bit thin. I think it gave it the look of those candles made to look like cupcakes?? Um... something like that anyway. The taste makes up for the look. :)
I added a cherry on top. The candied kind. Made me feel whimsical.
My only other accomplishment today was getting a hole in my sock. So I chopped the feet off and now I have nifty arm warmers. They have black and white strips with the number 72 at the top. No real meaning, but they made me smile. I 'll take pictures tomorrow.
Hope y'alls day was as productive! :) :)